Have you been struggling to fall Pregnant?
The longing for a baby is a deep, universal desire that touches the very core of who you are as a woman and the journey to motherhood is one filled with hope, excitement, and a sense of purpose, but when the journey takes an unexpected turn, it can be incredibly crushing and disheartening. Its important to start with the basics and learn about your body, understand what it needs and how you can help boost your fertility before reaching for a pill or proceedure.
There are many natural ways to boost your fertility and increase your chances of conceiving the baby of your dreams, that I believe should be explored before expensive medical interventions. Using natural methods to boost your fertility not only helps you improve your chances of conceiving, but it also allows you to take control of your reproductive health in a holistic, gentle way that honors your body and its natural processes.

If you are serious about trying to conceive a baby, what you have been doing isn't working and you're tired of riding the emotional roller-coaster then its time to make a decision to do something different. While you could continue to try the same thing each month, it's important to ask yourself how long you're willing to persist before trying new strategies and techniques that may increase your chances of success

What have you got to lose, when you've got everything to gain?

Over the past 25 years I have had the pleasure of helping thousands of women conceive beautiful healthy babies naturally. A little bit of education is often all that is needed to help turn their challenges around as you will find within the pages. Following these strategies could have a positive impact on your fertility levels and with a bit of luck – I will be hearing from you very soon with some exciting news.


Learn about some of the most powerful fertility foods on the planet

Find out if you are in optimum shape before trying to conceive and a 7 day plan of action if you are NOT

What you can do to stimulate your reproductive system in as little as 10 minutes a day

How to regulate irregular cycles

My top 5 fertility supplements that if you're not taking at the moment – you need to be!

Several strategies that could reduce stress and improve your fertility

How your external environment may be to blame and what you can do to change that.
The ability to conceive and carry a child is a precious and miraculous gift, every woman on the planet deserves to experience if she so desires.
I am dedicated to helping you achieve your dream of becoming a parent and am here to offer support, information, and resources to help you increase your fertility, choose the sex of your next baby or conceive twins naturally.
Click here to get started with 10 powerful strategies to Enhance your Fertility
So, whether you are just starting your fertility journey or have been trying to conceive for a while, I would like to help you navigate the process and find the best path forward for your unique situation. With my expertise and comprehensive approach to fertility, I am confident that I can help you achieve the healthy pregnancy and baby you desire.
So, If you've been struggling to fall pregnant and want to avoid another disappointed cycle, I invite you to come on a journey with me as I share some powerful strategies that could enhance your fertility naturally. I would like to share my decades worth of expertise, knowledge and passion into a few pages of useful tips to help get you on track to conceiving sooner.
Imagine being able to hold your little one in your arms sooner than you thought possible. How much would you pay for that priceless moment? This valuable information is priced affordably, so that it can be accessible to more women who are looking to enhance their fertility. My greatest reward would be hearing from you that you have successfully conceived and welcomed a new life into this world. I am committed to supporting you throughout your journey towards motherhood, and I believe that this information can make a positive difference in your life. Don't let this opportunity slip away – invest in yourself and take the first step towards realizing your dream of having a baby.
You owe it to yourself to give yourself the best possible chance at success, and this advice could be the first step towards achieving your goals.
So take a step forward today and give yourself the gift of this valuable advice. More info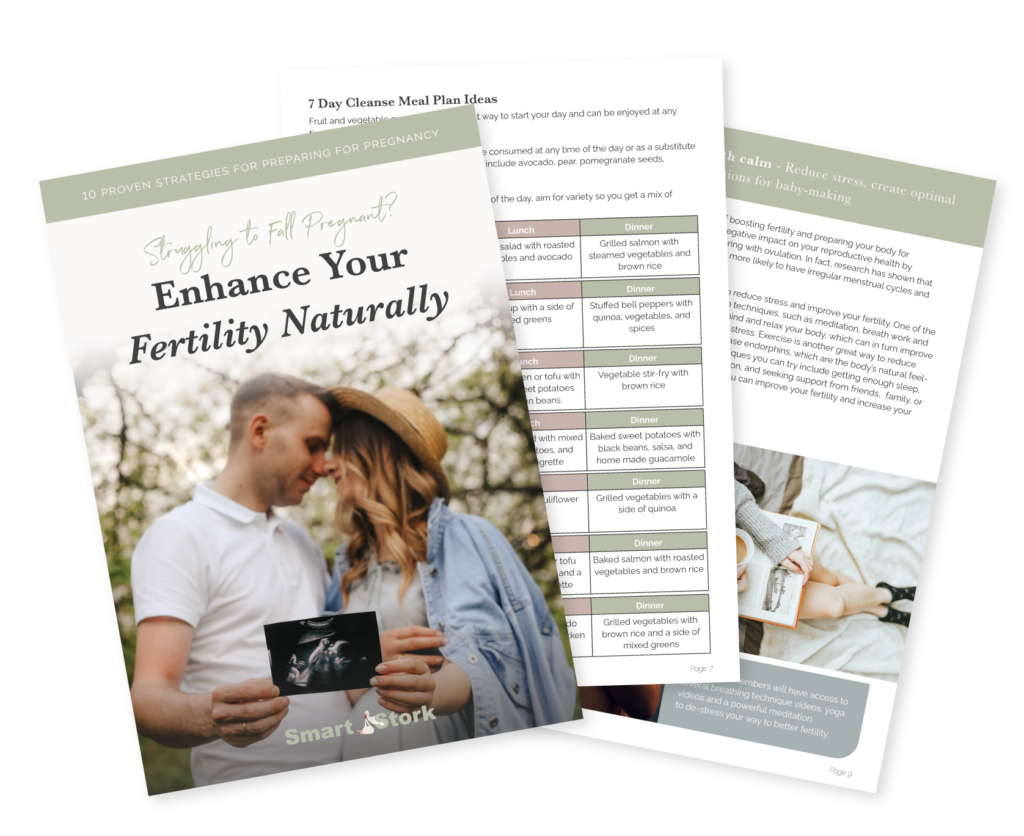 Don't waste another precious cycle without trying something different this new approach that may be the missing piece of your fertility puzzle.
Don't let fertility struggles stand in the way of your dream of becoming a parent, or a lack of information see you conceive your 4th boy when you long for a girl.
To learn more, feel free to explore the other blog posts or become a member and take charge of your conception plan today.
Thank you for choosing Smart Stork as a resource for your fertility journey.